By SUSAN LAHEY
Reporter with Silicon Hills News
Serial entrepreneur Bryan Menell and speaker Thom Singer knew each other in seventh grade back in Los Angeles. But they've made a pact never to tell anyone anything about those days, so there's no point in asking. Monday night, they celebrated the launch of their book at Umami Mia on Barton Springs Road:
The ABC's of Entrepreneurs
. It's the tenth edition of Singer's ABC series which includes The ABC's of Networking and The ABC's of Speaking.
Singer had wanted to write the book for a while, but got stuck.
"I'm a solo entrepreneur," he said. "I've never taken money, never had employees, never had a co-founder, so a lot of the topics I couldn't really write about first hand. So I killed the project. And Bryan came to me about a year later and said 'What happened?' and I said 'I didn't have the street cred.' And he said, 'Yeah, but I do. Why don't I help you write the book?"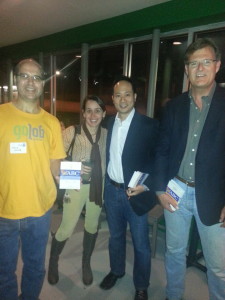 ABC's of Entrepreneurs covers topics like E is for Equity: "The most common pitfalls in equity distribution are undocumented and poorly defined promises of it. Imagine that you're just about to close on a round of investment capital for your business when the investors figure out that you promised Cousin Clyde three percent of the company in exchange for office space. The first problem is that it's not backed up by any signed documentation and the second problem is that you haven't defined the equity. Is three percent of the company in options, common stock, preferred stock or warrants?"
For someone who has been studying the entrepreneurial world for a while, the points might be rudimentary, as the title suggests. But it might bring up some new thoughts, too. Singer plans to offer the book, along with his others, at his speaking engagements.