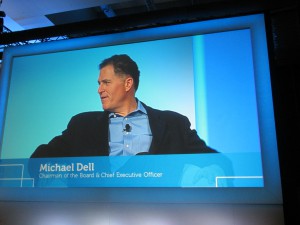 The transformation of Dell into a software solutions, services and cloud computing company is underway.
"We needed to go beyond the origins of the company" into areas like data centers and services "to build out a broad portfolio," Dell Founder and CEO Michael Dell said during a meeting with media and analysts Tuesday afternoon.
The company has invested $10 billion in the last four years to create an end-to-end solutions company, Dell said. Most notably, the company acquired Quest Software for $2.4 billion in July.
Dell Enterprise Solutions and Services now make up $20 billion, or one-third of its revenue.
But the Round Rock-based company still has its personal computer business and it isn't getting rid of it anytime soon.
In fact, Dell will unveil a next generation workstation and portable entertainment product during his keynote speech at Dell World 2012 Wednesday morning.
This is the second annual Dell World event. It takes place through Thursday at the Austin Convention Center. More than 6,000 Dell customers, partners, media, analysts and employees are expected to attend. Many of them gathered Tuesday evening at Austin City Limits to listen to music and eat from Austin food trucks.
On Wednesday, former President Bill Clinton and Dell will talk about the Clinton Global Initiative, philanthropy and other issues during the morning keynote.

The authors of the Freakonomics and SuperFreakonomics books, Steven Levitt and Stephen Dubner, will deliver the closing keynote address "Think like a Freak."