By Randy Lankford
Reporter with Silicon Hills News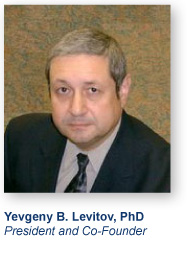 The potential loss to businesses worldwide due to workplace fraud in 2013 is $3.5 trillion.
That may be the best news Annette Starkweather and Yevgeny Levitov have heard since they incorporated FaceKey Superior Biometrics in 1999. As suppliers of workplace security and time and attendance equipment, the more fraud there is, the more demand they get.
The Association of Certified Fraud Examiners' (ACFE) 2012 Report to the Nations on Occupational Fraud and Abuse estimated the $3.5 trillion fraud figure. The report, which studied more than 1,000 businesses, also found the presence of anti-fraud controls such as access management and time and attendance verification correlates with significant decreases in the cost and duration of occupational fraud schemes. More good news for Starkweather and Levitov, whose security systems are so James Bond-like they were featured in the 2012 movie "Man on a Ledge."
The most common technique of access control and attendance verification in use today are card scanners, decades-old technology which Levitov, FaceKey's president, says can be bypassed for less than $20.
"You can get a handheld device from China for $19 that can replicate most electronic access cards. You don't even have to get hold of the card you're replicating. This device can capture the code from an access card in the pocket of someone you're sitting next to on the subway. Then you can program another card with the same code and have access to anything that person has access to; buildings, files, equipment, computers, anything. All the millions of access cards in use today, they're no better than an old fashioned lock and key. No matter what the technology in a swipe card, longer codes, more complex encoding, whatever; it's just an advanced key. It can still be lost, stolen, duplicated."
That, according to Starkweather, is where FaceKey's biometric technology comes in. "Biometrics is about knowing who someone is. Who they really are, not who some access card says they are."

Early biometric technology used minutiae points to tell one fingerprint from another. Electronic scans of fingers would compare up to 75 points of recognition to verify identity.
"While every fingerprint is different," explains Starkweather, "they have similarities, so once you have a large enough pool of employees, you start to have duplication of those 75 points of recognition. That technology works well up to a point, but eventually, you'll outgrow it."
FaceKey's latest technology, introduced in 2012, goes beyond matching minutiae points to pattern recognition. A wall-mounted camera, little larger than a cell phone, scans a visitor's fingerprint or face in less than a second.
The technology is being used on the 11th floor of the Weston Centre at Geekdom, where Facekey is based. Geekdom members use the facial recognition and fingerprint scanner to check into the coworking space.
"Everything has a pattern," explains Levitov. "Fingers, faces, this wall has a pattern. And that pattern can be digitized. Once it's digitized and in the customer's database, it can be accessed and matched."
If a match is not found, access is denied. Various levels of access at multiple locations can be programmed into FaceKey's firmware.
"I might have access to a building 24/7 where you might only be allowed in from 9-to-5," Starkweather explains. "Or I might be authorized to operate a piece of equipment you're not. Our firmware and software can be programmed to provide that specific level of access. If you're not authorized to operate a particular piece of equipment, it won't start."
The second primary application of FaceKey's technology is recording attendance. "Buddy punching" may not sound like doing someone a favor, but it costs employers millions every year.
"Buddy punching is where one employee swipes two time cards, his and his buddy's. As far as the time clock knows, both employees are at work and on the clock," Starkweather says. "Our system defeats that practice, since no one else can scan your thumbprint or your face. You have to be there to be on the clock."
That functionality is the primary reason Gregory Hudson, CEO of Genesis Concepts in San Antonio, installed FaceKey's system four years ago.
"We've had outstanding results with FaceKey. It provides the assurance that the person we put in the system is the one accessing our facility. And, as CEO, I can see who's come in and who's gone out through the FaceKey dashboard management reports."
FaceKey is currently creating a marketing organization to roll out its products to a wider customer base. With approximately 100 customers in their proof-of-concept database, Starkweather and Levitov are raising $500,000 through bond sales while building relationships with investors and distributors.
"We want to work with people who are already selling into industries and locations where our products will be a good fit," says Starkweather.
"Our technology gives a business a chance to be more profitable, more secure and even pay their employees better because they're not losing as much money to fraud. There's more money to put into payroll."
Geekdom is a sponsor of Silicon Hills News