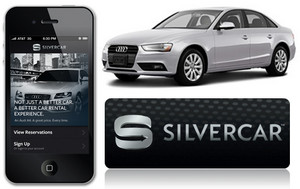 Silvercar, a new car rental startup based in Austin, launched today at the Dallas/Fort Worth International Airport.
The startup rents just one type of car: the 2013 Audi A4, in silver.
A privately held company, Silvercar is initially funded by $11.2 million in venture capital investment, led by Austin Ventures and including CrunchFund, SV Angel, and tech industry success-spotters Chris Dixon and Dave Morin.
Silvercar lets a customer handle the entire rental transaction using their smartphone. That means they don't have to wait in line or at counters when renting a Silvercar.
The Silvercar app, available for download from the Apple App Store for iOS and the Google Play Store for Android, lets customers book reservations from their phone.
"We're thrilled to launch the Silvercar experience with DFW as our flagship airport," Silvercar CEO Luke Schneider said in a news release. "We anticipate that our unique model will resonate with the connected business travelers who frequent DFW. Our vision is to deliver a consistently better car rental experience, in a consistently better car, each and every time customers rent with Silvercar."
The Silvercar customers ride a DFW shuttle to the rental car area, but then they handle everything with their smartphone including selecting and unlocking a vehicle with a QR code. The even receive their receipt on their phone.
"Silvercar was born out of one too many frustrating travel experiences at the car rental counter — the long waits and failure to receive a vehicle that fulfills your needs are irritations most travelers can relate to," Silvercar Co-Founder and executive chairman Bill Diffenderffer said in a news release.

Innovation is needed in the car rental industry, Schneider said.
"We're mindful of the fact that Silvercar is entering a large incumbent market, dominated by a handful of well-established companies," he said. "We're energized by the opportunity to make a measurable impact on the industry by introducing a unique and refreshing experience."