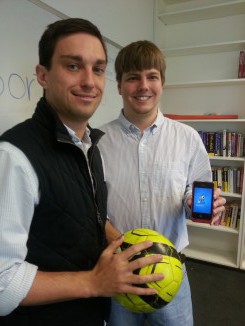 Want to keep track of your kids' soccer stats throughout the season and years?
SportyBird.io, a new San Antonio-based startup, has created a mobile application for that.
Founded by Josh Swank, 28, and John Trenholm, 27, SportyBird has created a cloud-based platform for community soccer teams to collect player stats throughout the season.
One parent at each game uses the mobile app to compile stats and then they are uploaded to a database for all the parents, players and the coach to access. The company plans to make money by charging a subscription fee up to $70 a year.
SportyBird is the latest recipient of a $25,000 investment from the Geekdom Fund. The pre-seed stage funding will help the startup to create their product, Swank said. They plan to conduct a beta test for the next two months and then launch publicly, he said.
"I am impressed with Joshua's tenacity," said John Mosher, a member of the Geekdom Fund's selection committee. "He was initially rejected by the Geekdom Fund but did not give up. He worked very hard and came back with a very focused product. This is exactly the type of company that Geekdom and the Fund should be supporting. They are developing a very interesting niche product that I know from personal experience is very needed."
Swank went to college on a soccer and academics scholarship at Duke University and ended up transferring to Georgia State. He currently works as a commercial real estate investor and coaches soccer at night.
Trenholm, who ran a web hosting business in high school in Houston, started working at Rackspace in 2006 while attending the University of Texas at San Antonio. He recently left Rackspace to finish his degree and launch SportyBird.

Trenholm and Swank first met at
3 Day Startup San Antonio
. They had a much broader soccer-based idea they first tried to pursue. But they decided to focus instead on compiling stats on players and community games.
"My favorite part about SportyBird is that as a 3 Day Startup team they kept going afterwards," said Nick Longo, director and co-founder of Geekdom. "From the original idea and their passion about kids and soccer, they found a great tool to make parents and coaches to track how well the kids do and how the games go. Can't wait to see the first launch and all the other sports they can do next."
Geekdom is a sponsor of Silicon Hills News